Frequently asked questions
About The Streetdog
Can the Streetdog go up steep hills?
---
Yes, no problem. We've designed it in and for Wellington - the city of hills and wind.
---
Am I too tall to fit on it?
---
We've had people approaching 2 meters tall ride it, with no complaints.
---
Can two people fit on it?
---
Yes, no problem. The actual production model will have even more space for two than our prototype model.
---
How much is it going to cost?
---
Prices start from $7,950 for the base model. Customisations in colours and designs will be extra. We'll be releasing details on this part soon.
---
Am I too short to fit on it?
---
We are working on an option of higher handlebars positioned closer to the rider so customers can choose to have a more relaxed riding position. This will make the bike more comfortable for shorter riders.
---
Do I need a special licence to ride the bike?
---
Nope! A car licence will do just fine for our Streetdog.
---
I live outside of New Zealand. Can I get a Streetdog?
---
At the moment, our Early Adopter run and (in the future) our second production run will only be available to customers located in New Zealand. But fear not! We have openend up an international waitlist. Add your name to the waitlist to show your support for the Streetdog to come to your country. The more support your country gets, the more likely we'll be seeing you soon - so get your mates on board! ​We will be making a decision on where we are heading and our production plans in September of next year.
---
Will you be releasing a faster Streetdog anytime soon?
---
We have plans to release a faster Streetdog down the line. However, for the time being, we are concentrating on the moped class with its 50 km/hr top speed. Subscribe up to our newsletter to stay up to date with the latest FTN news!
---
---
about FTN
What does FTN stand for?
---
The abbreviation FTN was once a guarded secret. But we don't mind if you know. FTN stands for 'Fuck The Norm', which is exactly what we intend to do with the Streetdog.
---
Why is Luke wearing jandals while riding the bike in some of the pictures?
---
Like a true Kiwi, Luke lives in his jandals (that's flipflops for you lot outside of New Zealand). When we had our first photoshoot with the Streetdog we were so concentrated on getting the shots we didn't even notice he still had them on. Rest assured, we completely endorse and support wearing appropriate safety gear while riding our bike, including closed shoes and a helmet.
---
How do I become part of the team?
---
We list any job openings on our website here. But make sure to follow us on Linkedin too to get the latest news.
---
How do I stay updated on the FTN journey?
---
Easy! Sign up for our newsletters here. But we also regularly update our YouTube channel with videos and you can find us on Instagram and Facebook too.
---
I would like find out more about investing in FTN. Who do I speak to?
---
James is your man. Drop him a line at james@ftnmotion.com.
---
---
Battery & charging
How long does the battery take to charge?
---
The battery takes around 6 hours to reach a full charge. The idea is you plug your battery in next to your phone at night and in the morning it's good to go! Catch Michel below explaining all the ins and outs of the battery: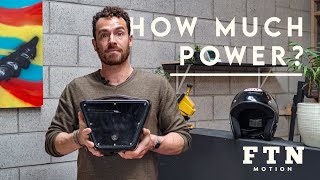 ---
Can I put another battery in the storage?
---
No, the 100km range is sufficient for a moped. The average city commuter travels 22km a day.
---
How do I charge it?
---
We provide a charger (which looks just like a laptop charger) that you can plug into any wall socket. You can charge your bike with the battery in the bike, or you can remove it and charge it where you please.
---
How far can the bike go on one a charge?
---
One six-hour charge will get you around 100 kilometers of real-life mixed city commuting.
---
How much does the battery weigh?
---
The Streetdog battery weighs 15kg.
---
---
Other
Is your question not listed here?
---
No worries! Drop us a line at hello@ftnmotion.com and we'd be happy to answer any questions you have.
---
---
Specs
Does the bike have mudguards?
---
Some of the photos you may have seen show the bike without mudguards. Rest assured, the production model will be fitted with mud guards to protect you on rainy days.
---
So how big is the storage?
---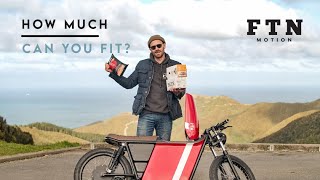 30L of integrated, lockable storage. To get an idea of what that means, 30L can store 6 six-packs of beer or fifteen 2 litre milk bottles. It's bigger than the backpack you probably carry around the city. Unfortunately, you can't fit your helmet in there. We will provide a hook inside the storage cavity to put the helmet strap around, to secure it. Catch Michel below to see exactly what 30L will fit:
---
What are the dimensions of the Streetdog?
---
Good question! You can find the specific dimensions and all the measurements here.
---
How much does the Streetdog weigh?
---
The Streetdog weighs 82 kg, with the 15 kg battery. So without the battery, it checks in at 67 kg.
---
---